In 1997 I had finally finished all the series I had wanted to do since childhood. At the time there was bit of a movement away from gritty and dark humored comics, and towards more back to basics adventure comics that could be enjoyed by "children of all ages." I wanted to do something of this type, and I wanted to take a very traditional approach to comics. I also wanted to stop thinking about the desire to make a living from it. For COLONIA, it was all about the story and the art. I would keep the day-job while doing it, and sales were secondary.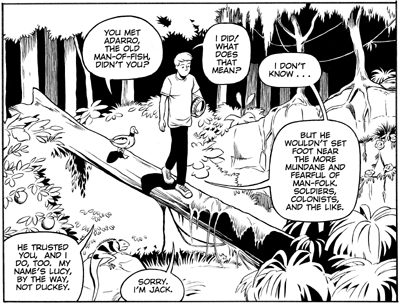 Once I got the notion of creating a fantasy-adventure series that was set in the New World instead of the Old World, I felt I had something I was excited about working with. I embraced the use of reference for the first time in my career, and set out to essentially learn to draw all over again, rather than keep repeating my old habits. Characters began populating my head, the back story and logic of this world began to brew, and it became unstoppable. I think I had the first five issues written before the debut issue went to press.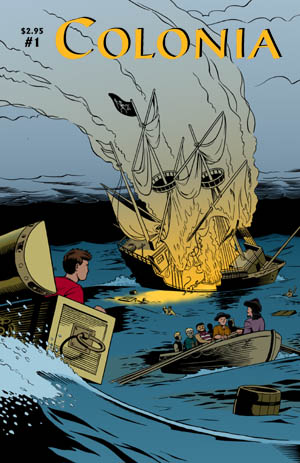 In the first issue of Colonia Jack and his two uncles wash ashore of an unfamiliar island, after escaping the hands of the pirate Cinnabar. Still unsure of where, or when, he is, Jack encounters a man made of fish, ghosts of lost Spanish Conquistadors, and still more pirates who seem to have sailed out of the 1600's. The most rational being he meets is a talking duck named Lucy, who is just as unfamiliar with the world Jack comes from as he is of hers.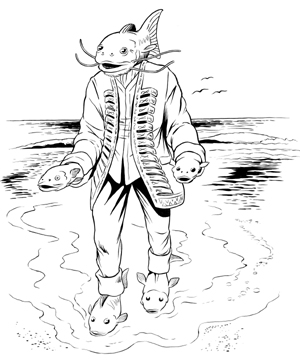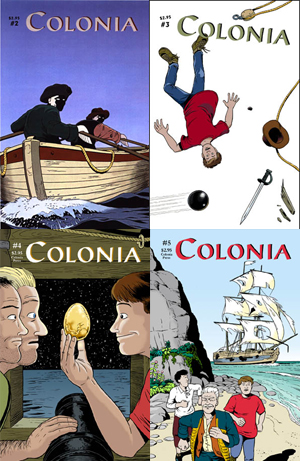 Colonia was off to a strong start, with healty sales and five issues published in a little over a year. I even reprinted the first issue which had sold out. After that productivity slowed as the comics market continued to dwindle and I approached middle age, releasing several more issues over the next four years, ending with #11.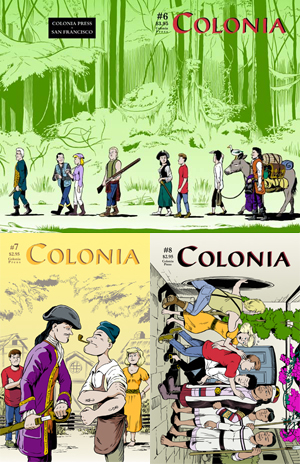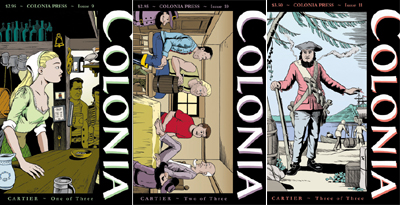 All eleven issues of Colonia are collected in two trade paperbacks, published by AiT/PlanetLAR. COLONIA: ISLANDS & ANOMALIES and COLONIA: ON INTO THE GREAT LANDS. They both contain unpublished sketches and the best of the text back matter sections. .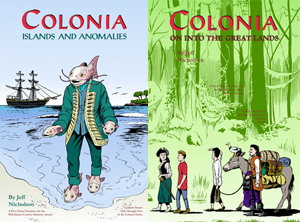 In 2005 I began work on the next collection COLONIA: THE WAY HOME. Unfortunately, I only created this cover, some fragmented scripts, and 17 pages of thumbnails before making the decision to stop making comics.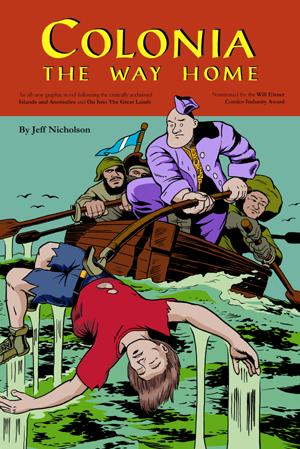 In case the cover looks familiar, it's a tribute to Jack Kirby's Kamandi #11.