Ultra Klutz was my obsession during the 1980's. Although the comic book series began as a torturous parody of Ultraman, it evolved into a complex interplanetary comedy soap opera that for the most part defies description. Always consistent was my unquenchable enthusiasm for the series and keeping the publication going, which was as much a part of the series as the story itself.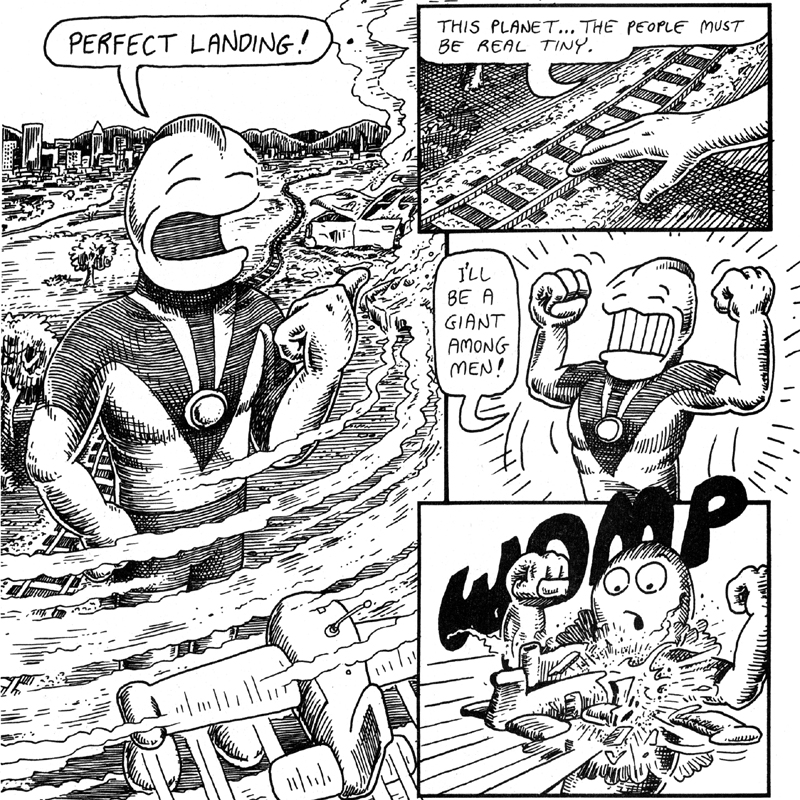 Like most cartoonists' earliest series, mine had origins back in grade school, and later during my early teens evolved into fully inked, colored, and hand bound mock-up 32 page comics. I did six of these issues before rebooting with Ultra Klutz #1, a proper camera-ready underground inspired comic book. I self-published it with fresh-faced enthusiasm at age 18 in 1981. It is commonly referred to as Ultra Klutz '81.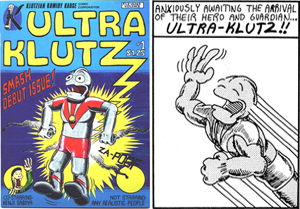 The underground Ultra Klutz initially flopped, but in 1984 I discovered the existence of photocopy 'zines. This rejuvenated me to get back in the game, and I rebooted Ultra Klutz (again) with a new #1, this time more influenced by Jack Kirby (The New Gods) and Dave Sim (Cerebus) which resulted in more of an "epic" type of series than pure parody. In the space of a year and a half, I released five issues of the new Ultra Klutz, which by the latter issues were getting established in retail stores and select distributors.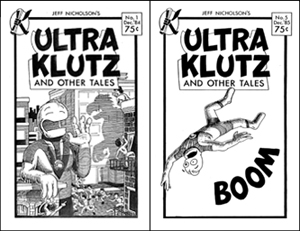 If this were an episode of VH1 Behind The Music, then this would be the part where I had my first big hit. Just as I was graduating college, I self-published the aforementioned Ultra Klutz zines as full blown independent color-covered comics with North American distribution. The timing coincident with a speculator boom on indy comics, and the first issue sold 18,000 copies. I continued on with it as a monthly series for the next two years.





"ULTRA KLUTZ is dynamite! Funny, boisterous, thoroughly original."
-- Scott McCloud, UNDERSTANDING COMICS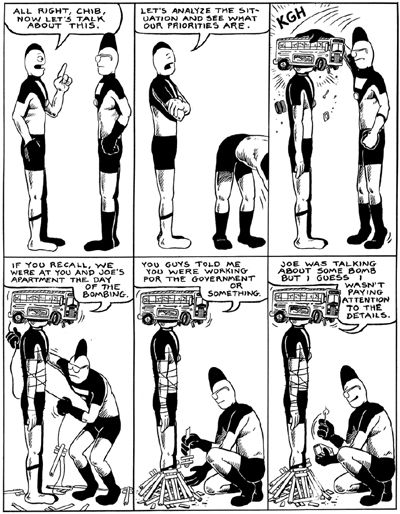 A bust in the independent comics boom led to the series sales dropping to 10k, to 5k, to 2k over the course of those two years. It went bi-monthly with issue 24, and the last four issues were released sporadically after I could no longer make a living from it.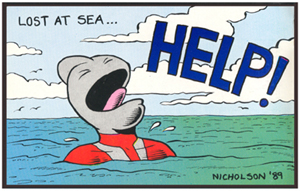 Looking for a new spin on the declining series, I created Ultra Klutz Dreams, a series of stand-alone short stories that were created for an anthology comic in 1991, as well as an Ultra Klutz sequel called Lost Laughter. The latter was in response to the "doom and gloom" bleak revisionist history that was a big trend in comics at this time. I released four issues which were a sales disaster, and dutifully finished the series in three additional chapters in the Caliber Press anthology Negative Burn.

Eventually, the complete Ultra Klutz epic was published in two massive omnibus volumes, totalling over 900 pages!